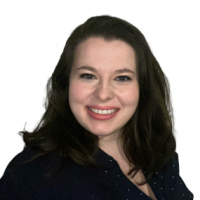 Yana List
Education Specialist, Center for Afterschool and Expanded Learning
Yana List is an Education Specialist in the Center for Afterschool and Expanding Learning, responsible primarily for content development. Yana's background is in science education; she spent four years teaching high school biology and chemistry, in addition to crafting a science curriculum and providing supplementary professional development in her role as curriculum specialist.
Yana earned a Bachelor's degree in Biology and Education from Swarthmore College and a Master's degree in Curriculum Development from Ball State University. Although her focus has largely been on science education, Yana is particularly proud of a curriculum she wrote on LGBTQ inclusion and representation in media.
Yana is an avid reader, actively participating in four or five book clubs! She is also involved in a number of causes, including her work with HeadCount, a voter registration organization. In her free time, Yana loves to lavish attention on her brilliant cat Hermione, bake bread, or browse for clothes at Target.