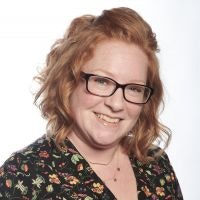 Kate McCoach
Director, Finance
Kate McCoach is Director of Finance, responsible for everything from day-to-day accounting to big picture financial analysis. Among her many duties, Kate handles all aspects of financial reporting for both internal departments and external funders, as well as contract drafting, review, and negotiation. Kate is the ultimate team player, adapting and collaborating with colleagues in all departments in order to provide top-notch work in the most efficient manner.
Before joining Foundations in 2010, Kate spent five years as a senior audit associate for KPMG, one of the big four public accounting firms. Kate earned her Master's in Accountancy from the University of North Carolina at Wilmington, as well as a Bachelor's in Psychology from East Carolina University.
Kate loves working with a deadline. The thrill and sense of accomplishment from producing high-quality results under a time crunch is the ultimate motivator. On a daily basis, Kate channels her favorite inspirational quote: "Today's accomplishments were yesterday's impossibilities." When she's not thinking about deadlines, Kate loves spending time with her two young children, gardening, or shopping online.