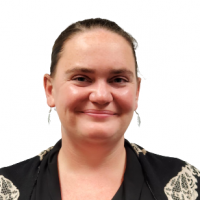 Hillary Jones
Education Specialist, Center for Afterschool and Expanded Learning
Hillary Jones is an Education Specialist in the Center for Afterschool and Expanded Learning, providing professional development, technical assistance, and content development to our clients nationwide.
Hillary's career began as a teacher in the city of Camden teaching Spanish, language arts, and literacy. She then transitioned into the afterschool world — beginning as a Day Camp Supervisor before moving to the Salvation Army, where she served as Education Manager and Senior Program Manager. During her time at the Salvation Army, Hillary provided training and professional development to staff on a local and regional level. Hillary holds a bachelor's degree in Spanish with a Teaching Certification and a master's degree in Education and Human Development from George Washington University.
Hillary is bilingual in English and Spanish and is passionate about education. She has traveled extensively to South America and is a fount of knowledge on Chile. Hillary loves to be outdoors, whether it's hiking, camping, or sailing. She also is the proud owner of a certified therapy dog; together they visit hospitals, schools, and community centers.