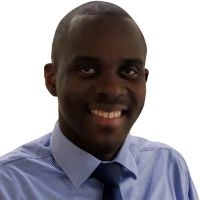 Andrew Francis
Education Specialist, Center for Afterschool and Expanded Learning
Andrew Francis is an Education Specialist in the Center for Afterschool and Expanded Learning, strengthening out-of-school time programs through quality assurance and research, as well as hands-on support through the U.S. Department of Education's You for Youth (Y4Y) trainings and technical assistance.
Prior to moving to the United States in March 2019, Andrew spent a decade working for Jamaica's Ministry of Education; in that role, he supported over 150 public schools through their transition into the new National Standards Curriculum, helping to bridge the divide between people in the field and the people making policy. Andrew has first-hand experience on both sides of the equation, including serving as Site Director for an out-of-school time program.
For Andrew, the most important thing is placing young people at the center of their own youth development. He exemplifies this every day with his own young children Johannah and Josiah, teaching them the importance of self-respect. Andrew has a passion for music and loves singing at home with his children and wife Tashika; back in Jamaica, he also directed his church's youth choir. He's especially fond of old Jamaican folk songs and soul legends like Percy Sledge and Sam Cooke.