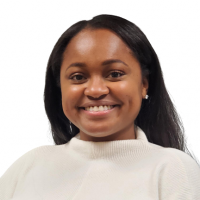 Shanika Peck
Education Specialist, Center for Afterschool and Expanded Learning
Shanika Peck is an Education Specialist in the Center for Afterschool and Expanded Learning, providing professional development, technical assistance, and content development to our clients nationwide. She is an experienced educator and accomplished organizational leader with a deep commitment to diversity, social justice, and equity.
Shanika is a strategic thinker and spent eight years focused on holistic learning and equity with elementary school students, young professionals, and adults in a wide variety of learning environments. She provided instruction and advocacy for her students at the Christina Seix Academy in Trenton, NJ — holding a variety of roles, including Intervention Coordinator and Lead Instructor. Shanika holds a bachelor's degree from Loyola University Maryland in Elementary Education and a master's degree from Saint Joseph's University in Organizational Leadership, focusing on Talent Development.
Shanika enjoys spending time with her family and friends. Shanika loves to include wine tastings and karaoke as her options for self-care routines. In addition, she loves reading history and sci-fi-inspired books, cooking large meals, critiquing movies out loud, and taking long naps. As an avid reader she is always willing to share a few great book recommendations!