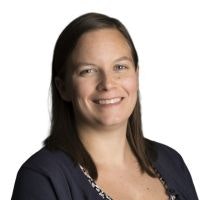 Kerry Stouffer
Director, Special Education Support Services
Kerry Stouffer is Director, Special Education Support Services, managing Foundations' individualized student support program and providing in-school support, particularly for special education. Kerry has been working in special education since 2004; in that time, she's had the opportunity to work with experts at both the local and state level who provided mentoring and critical support. Inspired by those she worked with, Kerry has continued to pay it forward by mentoring and inspiring others as they improve their craft in the field of special education.
Kerry is motivated by a challenge and is constantly seeking innovative ways to ensure that all students excel, despite the obstacles they face. Kerry earned a Master's degree in Special Education from St. Joseph's University and a Bachelor's degree in Special Education from Pennsylvania State University; she also holds Principal K-12 certification, Special Education K-12 certification, and a variety of instructional certifications.
In her free time, Kerry loves to travel, read, and cook with her growing family. Introducing new foods to her toddler through the baby-led weaning approach was a gateway into exploring new foods, recipes, cooking styles, and a community of like-minded foodie mothers who she now calls her friends.