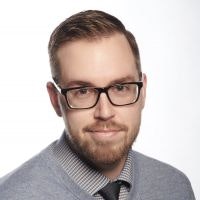 Dave McConnell
Director, Center for Afterschool and Expanded Learning
Dave McConnell is Director of the Center for Afterschool and Expanded Learning, supporting out-of-school time programs through the design and delivery of professional development. Dave also collaborates and consults with national organizations on the creation of afterschool content, contributes to the U.S. Department of Education's You for Youth (Y4Y) web portal, and provides training, technical assistance, and resources for out-of-school time programs.
Dave has first-hand experience working in out-of-school time; he worked as frontline staff in out-of-school time sports programs while earning his Master's in Higher Education Administration from Georgia Southern University. Dave also spent three years in educational publishing, developing training materials and providing professional development to teachers and administrators.
Dave is a problem solver and a team player; he loves working with a group on a shared goal. Originally from South Jersey, Dave is a fan of all Philadelphia sports teams; he particularly loves the 76ers and is an avid sneakerhead. Dave loves to spend his free time with his daughter Zoe – especially at the beach!