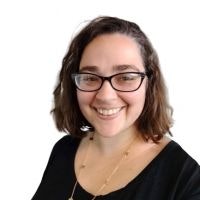 Paula Houghton, Ph.D.
Director, Outreach and Engagement
Paula Houghton is Director of Outreach and Engagement, involved in a wide range of activities across all departments – from conference planning and development to marketing and communications. She spent 16 years in adult education, teaching at Rutgers University, Princeton University, and Mercer County Community College. Paula taught quantitative reasoning, writing, and English as a Second Language – and advocated for the smart implementation of online tools for the classroom. She earned a Bachelor's degree from the University of Massachusetts in Linguistics, Education, and Language Acquisition, while her PhD in Linguistics and Cognitive Science is from Rutgers University.
Paula is a key member of the Beyond School Hours planning team and was responsible for spearheading the mobile app first used at the conference in 2019. In her free time, Paula loves to hike and play tabletop games with her kid Zelda and husband Patrick. Paula loves a challenge and is most excited when her work involves juggling several unrelated balls at once. Her passion for education dates back as far as she can remember, when she would make her younger brother play school at home during snow days.