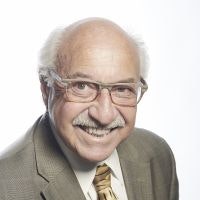 Emilio Matticoli, Ed.D.
Senior Advisor
Emilio Matticoli is Senior Advisor, serving as the primary liaison with Foundations' Board of Directors and National Advisory Board, as well as with government, business, and community programs. Before joining Foundations in 2000, Emilio worked in the School District of Philadelphia for thirty-one years – from an intermediate grade teacher to the South Philadelphia Cluster Leader. For nearly twenty of those years, Emilio was the principal for the combined Stephen Girard Elementary School and Girard Academic Music Program – a K-4 neighborhood school and a music magnet program for grades 5-12.
Emilio was born and raised in Philadelphia, attending school in the South Philadelphia cluster that he would one day end up leading. He stayed in the city he loves for his entire professional career – including earning three degrees from Temple University, culminating in his Doctorate in Education. Emilio was appointed to the Philadelphia School Board in 2000, serving in that capacity for one year.
Emilio is currently Chairman of the Board of Directors for CATCH, Inc. – Citizens Acting Together Can Help – a community-based nonprofit in South Philadelphia. Although Emilio is a Philadelphian to his core, he can often be found at the Jersey shore in the summertime. Emilio loves music and is an avid Frank Sinatra fan – some even say that Emilio bears a striking resemblance to Ol' Blue Eyes himself!